You have probably heard about the new trend for a beach wedding.
Thassos, Greece, is an isle at the northeast Aegean.
While it's not that famous like Santorini or Mikonos, it definitely has a beauty of its own!
As a result, tourists from all over the world visit Thassos, to admire its beaches and enjoy everything it has to offer.
Lately, many people chose to have their wedding and wedding photoshoot in Thassos!
That's why we selected our favorite locations for your Beach Wedding in Thassos.
Be it a beach wedding, or a beach wedding photoshoot, just take a look at the Top 10 fantastic beaches of Thassos.
Wedding Photoshoot – Top 10 Thassos Beaches
When someone thinks about Thassos beaches, one thing is for sure;
Thassos has many beautiful beaches that can please even the most demanding traveler.
Be its long sandy beaches, such as Paradise and Golden Beach, or more rocky, rough locations, such as Giola and Aliki Beach,
it is guaranteed that there is a beach, perfect for you.
Moreover, you can draw inspiration for a solo, couple, or wedding photoshoot on the beach.
That being said, let' take a look at our list of Top 10 Beaches for your Beach Wedding Thassos.
1. Marble Beach / Porto Vathy
This coast took the name because of the marble factory and that's the reason for the crystalize water.
Consequently, the beach hasn't got sand, but smooth, white pebbles.
As a matter of fact, Marble Beach is located on the northeastern side of Thassos, close to Limenas.
Moreover, it has a well-decorated beach bar that can host your wedding in Thassos too.
In fact, over the last couple of years, Marble Beach has become the most popular beach for a Beach Wedding in Thassos.
Take a look at some of the weddings we shot there.
In conclusion, Marble Beach is one of the most popular, and most amazing locations for a Wedding Photo Shoot in Thassos.
2. Aliki Beach
Alykes are actually two beaches in the same place.
Some say that Alykes took the name because of queen Aliki which used to be her kingdom.
Another possible explanation is that the open formations of rocks were used to collect salt.
(Because Alykes in Greek, means the place where salt is collected.)
The seashore and the homonymous village are located on the southeastern side of the island.
It has two bays with seasides, peddles, sand and crystalline water.
They are used as a harbor for little fishing boats and yachts.
Therefore, the western side has beach bars, taverns, and restaurants.
Yet the second beach is much more reserved.
The main attraction there, is the archaeological site, with remains of the ancient settlement.
The remains are part of ancient temples called Basilicas.
As a matter of fact, it's very nice and intimate for a Photo Shoot here.
The most interesting place for us, however, is the rock formations of the peninsula.
Yet they are easily reachable by a path and the view from there is stunning.
Seems like these two are definitely two of the Best Beaches in Thassos for your Wedding.
3. Aphrodite's Tear (Giola)
Aphrodite's Tear, or Giola as the locals call it, is a natural pool of green crystalline waters.
Even though technically, it's not a beach, everyone considers it one of the most spectacular attractions of the island.
It's located nearby to Astris village.
However, if you want to swim there, you have to walk, around 10 minutes;
Park on the parking space and follow the dirt road to this amazing place.
However, although it is quite picturesque, it tends to be quite crowded.
Would you like your wedding photo session there?
While it's not a typical beach, it definitely belongs in a Top 10 Beaches in Thassos for your Wedding article!
4. Paradise Beach
Most of the media show it as the best beach in Thassos, and they probably aren't wrong at all!
Seems like it took its heavenly name as a result of the lush green forest and its exotic beauty.
Hence the seaside has thin, fine sand and the waters are blue and green
Naturally, it reminds you of something exotic, maybe like Hawaii.
It's one of the best beaches in Thassos for a romantic, love lasting Photo Shoot.
5. Golden Beach (Skala Potamias)
The largest beach on the island is located on the eastern side, only 13 kilometers distance from Limenas.
Golden Beach took its name from the thick, golden sand.
It has shallow waters where you can play all day.
Moreover, the shallow waters of Golden Beach are perfect for an in the water photoshoot.
Furthermore, the area has plenty of taverns and hotels.
This is why many couples choose this beach for their beach wedding in Thassos.
Otherwise, you can always have your Photo Session there.
6. Monastery Beach
Located on the southern side of the island, Monastery Beach is one of the most special beaches of the island.
This beach used to be a small harbor for the nearby Archangelos Monastery, when there was no road around the island,
There, the monks would get supplies and send goods.
It is on the base of large pillars of stone upon which the monastery stands.
It has amazingly emerald waters.
Freshwater runs from the stones, creating a tiny waterfall with freezing cold water.
Nowadays, it's the perfect place for an intimate and romantic photoshoot on the beach.
7. Metalia Beach
In close proximity to Limenaria town, lays one of the most famous beaches of the island.
Metalia Beach was named after the rich metal mines that existed there.
The old iron veins that still exist give a characteristic tint to the rock formations behind the beach.
This gives way for a unique, atmospheric photo session there.
It's quite easy to find this coast, and there is a beach bar as well.
What's more, you can find a little cave, secretly hidden on the side of the beach.
Extra info: Actually, the Metalia Beach, is part of an old mining complex that includes "Palataki" (='little palace').
The beautiful deserted mansion that stands on the hill overlooking Limenaria, is a perfect place for an inspiring photoshoot.
8. Potos Beach
Surely you must have heard Potos.
Potos is one of the most popular destinations on the island, preferred by the younger and more active couples and families.
Moreover, it has great beach wedding locations nearby.
While the beach itself its quite crowded during the day, in the evening it transforms into a perfect intimate location.
There, you can enjoy a romantic dinner for two.
Moreover, you can have an intimate wedding there.
9. Karnagio (Limenas)
Probably, Karnagio is the best beach wedding location you can find so close to Limenas.
On the edge of the town, after the harbor and the last restaurants, you can find Karnagio.
Actually Karnagio means "Shipyard".
It is the place where fishing and trading ships would get their annual repairs.
Sometimes they even built boats from scratch.
Now, it is a trendy beach bar with quality service.
Bonus: You can enjoy amazing sunsets at this place!
As about the water, it's crystal clear and has white pebbles.
You can even have a fabulous Wedding Photo Shoot Here!
In any case, our Thassos Wedding Photography team will be ready to capture your wedding photos.
However, keep in mind, that it is necessary to speak with a wedding planner to organize your wedding there;
They don't handle communications for weddings themselves.
That will be the job of the wedding planner you will hire.
10. Marti Beach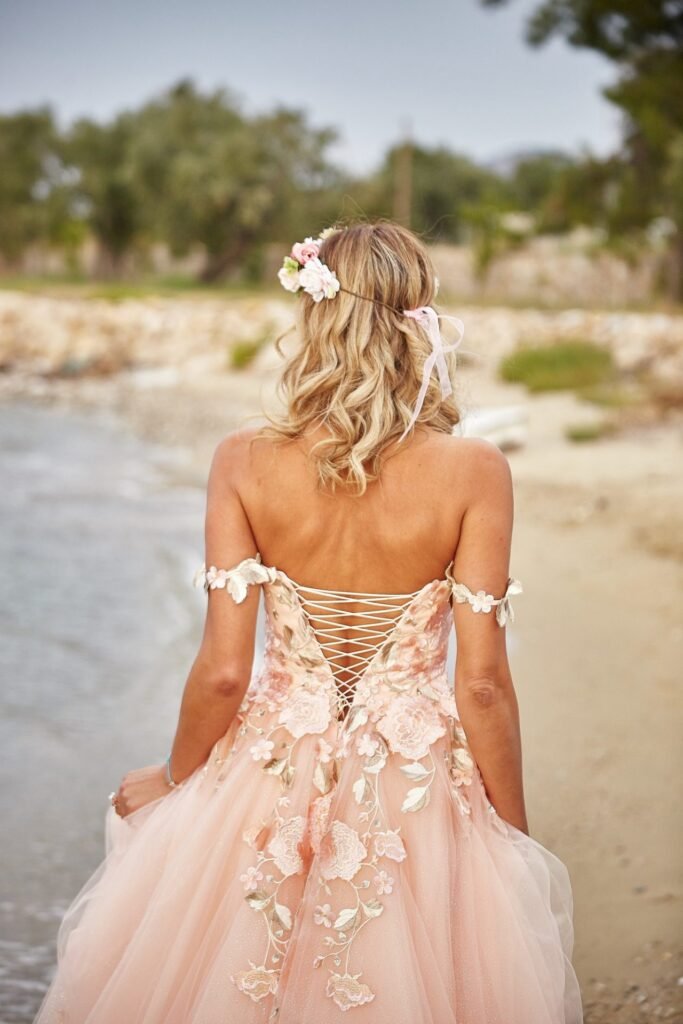 Marti Beach is a very calm beach on the western side of the island.
Actually, the beach is worked by the hotel nearby.
It offers drinks and can host a simple wedding on the beach.
These are the Top 10 Beaches in Thassos for your Wedding
In conclusion, these are our favorite beaches on the island.
These coasts are appropriate for Wedding Photoshoots or to Organize your Wedding.
All of them are safe and you will have a great time!
Other Beaches
We have revealed our favorite, most popular beaches in Thassos for your Wedding.
However, this is not all.
Overall, there are 43 named Beaches in Thassos, and all of them are so beautiful!
There are many more beaches on the island where you can organize your beach wedding, or have your wedding photoshoot.
In Conclusion
Do you agree with our selection of Top 10 Beaches in Thassos for your Wedding?
Would you like to have Your Destination Wedding on one of them?
Please write us in the comments!
Written by Maria Germantzidou.
Photos & Editing by Alex Katsamakis & The Dreammakers

---
---
You might also like
---