Coronavirus Wedding Greece
In May 2020, the Coronavirus situation concerning your wedding in Greece is much more clear than it was.
Borders and flights to Greece will open on the 15th of June and 1st of July respectively.
It was February 2020 when the whole Coronavirus epidemic talk moved over from China, but it wasn't until March 2020 when the Coronavirus Crisis really struck Europe.
By the time, none could have imagined that it could have impacted our lives in such an extent.
As I am writing this article in late March, the situation massively progresses; many people are forced to stay home, many losing their jobs.
Moreover, most European states have banned all social interactions that concern any number of people.
This is why, even in Greece, a meticulously religious country, all religious and civil ceremonies have seized; at least for the time being.
Yes, this means weddings too.
At this time, in Europe, it is forbidden to hold a wedding ceremony of any number of people.
If that wasn't enough, flights, and all travel activities have seized as well.
Even if they weren't so, all restaurants, bars, and hotels, are forced to remain close for the duration of the pandemic.
Coronavirus Wedding Questions From Couples
Now there is a question you are all probably asking: for how long?
For how long will the ban of wedding ceremonies will last?
And more importantly:
Will my wedding in Greece take place normally this summer?
(spoiler alert: if you want the direct answer read the last paragraph of this article)
These are questions that we have seen many times been asked in social media for the last week.
"I have my wedding in Greece coming up this summer. What should I do?"
Or "What do you think are the chances that my wedding in Greece this summer will be cancelled?"
Brides and vendors keep asking "Did anyone cancel their destination wedding?"
Questions like these are totally reasonable, and trust us, we can feel your agony.
So, at the end of the day, what should you do?
Let's go about some of your options, as we give you our best coronavirus tips for your wedding.
Coronavirus Wedding Tips
Reschedule your Wedding
Cancel your Wedding
Elope
Reschedule your Wedding
A lot of couples that have their wedding in Greece coming up early in May or June 2020, have no other option but to postpone their wedding due to Coronavirus.
Since for the moment all weddings are not being allowed, and even if they were, travelling to and from is not possible, as airports are closed, couples have no other option than to inform their guests that their wedding for summer 2020 will be postponed.
That is the case of Anna and Steven, a couple from Australia that has postponed their wedding in Greece due to the Coronavirus.
To when?
This is a good question.
Well, most vendors in Greece, and so far as I am concerned in Europe, are positive to reschedule your wedding, most times for a fee but sometimes even for free.
This is why we offer our couples getting married in Thassos, Halkidiki and Kavala free rescheduling!
Yes, we offer rescheduling without extra cost in any date possible during summer and autumn 2020.
In some cases, couples have even asked to postpone their wedding a whole year, for 2021.
This is also always possible.
At least this way, your wedding will go on as planned with the highest of probabilities.
Of course, for some cases, rescheduling fees apply – for example where air tickets have been bought already; these costs cannot be refunded.
Therefore, sometimes there is an extra cost that incurs to couples, and this sometimes can be hefty, especially for couples that work with foreign agencies and vendors.
That's why, in the end, it is always better to work with a local company like us.
In either case, this brings many couples to option number two:
Cancel your Wedding
Yes, while some brides have been thinking about that, some have already done just that.
They have cancelled their dream wedding abroad, and instead, decided to make it somewhere at home.
This applies for at least a case for a couple from the UK, who decided to marry somewhere near to their home later this summer;
cancelling their wedding abroad due to the Coronavirus.
Making their new wedding date in their hometown gives them more confidence and certainty that it will go on as planned, even though this means that they have to part with a big chunk of their wedding investment.
And yes, we can understand that planning a wedding abroad can be a lot of stress especially when you have an inadequate wedding planner.
Or even worse if you have none.
This is why a wedding planner actually helps – by having a contract in place, you are not afraid of what may come in your wedding, because at least you can always get a decent reschedule.
Or even be valid for a full refund, if you have travel insurance.
Wedding insurance starts to be a major trend now with the Corona virus.
With countries such as Italy and Spain in major lockdown, it is highly unlikely than any weddings will be taking place there this summer.
However, authorities and industry specialists are highly optimistic that weddings in Greece after July 2020 will go normally as planned.
And that's why cancelling your wedding in Greece for summer 2020 shouldn't be but your very last option.
Elope
Even though right now you cannot elope, at least for the time being, an elopement will always be a safer option regarding your wedding this summer.
As you may well all know, elopements nowadays are just small weddings;
in our dictionary, an elopement is a wedding that only the couple participates in.
Even though major lockdown is programmed to seize around the end of May, truth is, weddings will not be the same.
Especially large, traditional weddings are bound to change.
What will a wedding during coronavirus look like?
We think that people in Europe will keep social distancing, for at least half a year.
Moreover, there is a feeling that large events will still be banned till further away this year, maybe even later than August.
In fact, according to the World Health Organization (WHO), the corona crisis will last from anywhere from three to nine months.
Then, should you even hold a wedding during coronavirus?
And don't forget, that socially, you are responsible for the wellbeing of your guests;
In a larger extend, you are responsible for protecting their health as well.
Why not let them stay at home then?
Why Eloping is Better
In these circumstances, an elopement is the perfect solution;
It goes around the problem of having a large number of guests in your wedding.
Moreover, it is stunningly romantic.
You can never get more romantic with a wedding on the beach, somewhere in Greece.
In fact, if you ever thought about eloping – now it's the perfect time to do it.
And you can always hold a traditional wedding back home when things get better.
Why not turn the threat of coronavirus into an opportunity to enjoy your day even more with your significant other?
You can always have a chick, elegant and romantic photo shoot on the beach;
This way everyone back home can be jealous of you, over social media.
Coronavirus Update – May 2020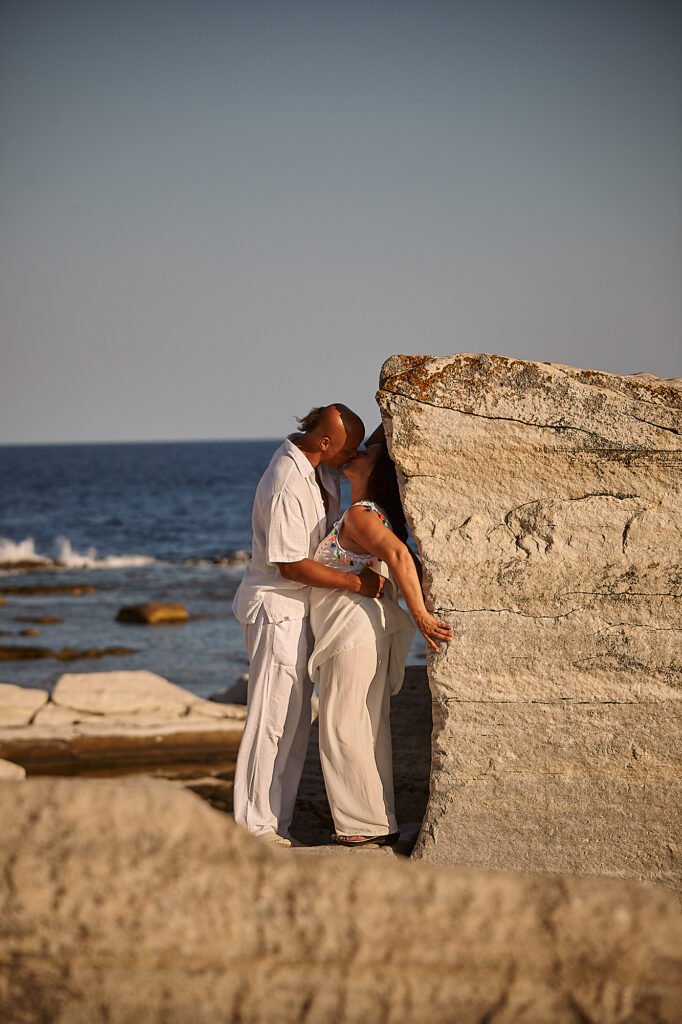 In May 2020, the Coronavirus situation concerning your wedding in Greece is much more clear than it was.
As the prime minister and the minister of tourism of Greece have revealed, borders to Greece will open on the 15th of June.
Flight to all airports in the country will resume from the 1st of July normally from all EU countries.
EU inhabitants will be able to come in the country freely, without any prior testing required.
Moreover, there is no quarantine period upon entering the country.
Therefore it is possible to resume your wedding in Greece after June 2020.
However, this being said, it doesn't mean that weddings in Greece and everything concerning will be exactly the same in summer 2020.
Proper hygiene measures and specifications have been issued by the government and the EU.
This includes the necessary wearing of masks in closed space (inside churches for example).
Moreover, the proper distance (>1m) has to be applied in all situations.
Finally, special measures been taken in the distribution of food concerning wedding venues and receptions.
Even though this might be the end of updates we will have, for now, I will try to update it tactically with the latest information concerning coronavirus and wedding in Greece.
Conclusions
While coronavirus looks that it's here to stay, at least for some time, this doesn't mean we will stop living our lives.
People will always try to find ways to overcome crises, and look stronger afterwards.
This is part of the reason why your small wedding in Greece can go on normally after June 2020.
While they might be some special measures taken, these mostly affect the obligations of the professionals involved, rather than the couple.
While this text is meant to be a help for couples going through this difficult time, always try to remember that you are not alone.
We are all in this together.
Should you feel that you have something to add, please, write us in the comments, or send us a message directly.
Till then, Keep Calm and Travel to Greece!
---
---
You might also like
---